Audio / Data Links
Carry remote broadcasts back to the studio
BE & Marti Remote Gear
Remote Broadcast & Studio Transmitter Links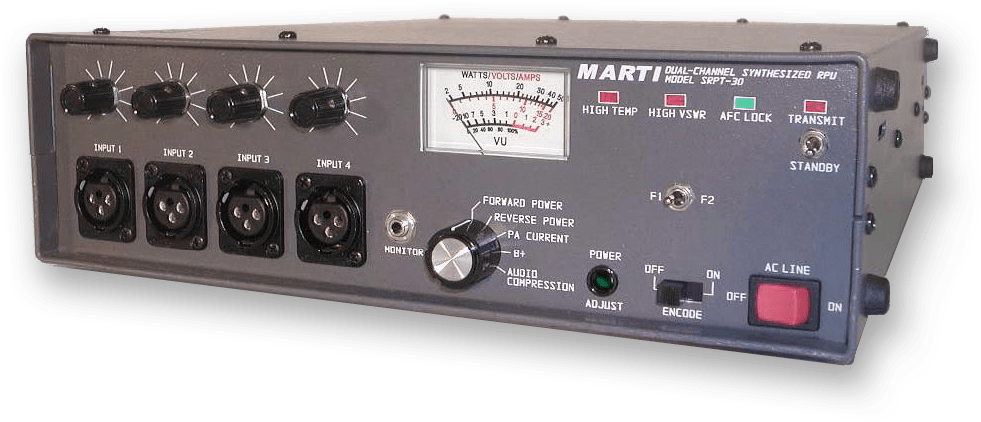 For many broadcasters, the Marti name is synonymous with remote gear. Just about every station has owned a "Marti" at one time or another to carry remote broadcasts back to the studio.
It all started in 1947, when George W. Marti obtained an FCC license to build radio station KCLE in Cleburne, Texas. His experiences operating the station led to an idea for a portable VHF transmitter capable of sending high-quality radio programming from a temporary remote location to a receiver located at the studio.
The remote pickup unit (RPU) remains today one of the staples of radio for electronic newsgathering.
Marti Electronics, Inc. was formally established in 1960 to manufacture RPUs. Additional products added to the Marti line over the decades include the microwave studio-to-transmitter links (STLs).
In 1994, the company was sold to Broadcast Electronics to continue its tradition of quality manufacturing and support.
RPU
Remote Broadcast
The BE-Marti name is probably the most recognized manufacturer of remote broadcast gear, offering dual-frequency and frequency agile transmitters and receivers.
Available configured for anywhere in the world, BE-Marti will also help you put together your complete remote system including accessories.
Marti remote pickup transmitters and receivers are reliable year after year and can stand the punishment of time and hostile field conditions.
Providing the best value, Marti products are assembled and tested in the USA to meet the rugged demands of today's broadcasters.
Marti RPU equipment can also be used as TSL units, providing return audio links.
STL
Studio Transmitter Links
Marti STL transmitters and companion receivers form a high-quality, point-to-point radio communications link.
Marti gives you a choice in uncompressed analog STLs. We continue to offer discrete systems utilizing separate transmitters and receivers for left and right channels, as well as composite stereo configurations.
Companion subcarrier generator/demodulator pairs are also available.
Available in a wide range of band models, complex systems can be built from basic transmitter/receiver pairs having multiple relays (repeaters), bi-directional (full duplex), and automatic switching standby features.

EQUIPMENT LEASING
Financing options available
Our equipment leasing professionals partners will create custom-designed financing based on your unique situation. Your needs will be met with fast approval and flexible rates
LET'S GO ON AIR
Are you ready for a better, more productive Radio / TV station?
Stop worrying about technology problems. Focus on your business. Let us provide the support you deserve.