Radio Transmitters
Reliability – Redundancy – Audio Quality
STX Series
The Advantage
From 500W to 1kW / from 2kW to 6kW / 10kW to 20kW


When it comes to radio transmission, Broadcast Electronics' FM transmitters are hard to beat.
Standout features include true proportional VSWR foldback for transmission resiliency and independent IPAs and power supplies that give you full standby power without having to buy another transmitter.
Large, removable panels provide access to every major assembly for quick repair in the unlikely event of a problem, and advanced controllers offer more in-field information than ever.
Features available in all STX Radio Transmitters / Exciters
Multiple Audio Inputs with Auto-failover capabilities
RDS Generator Built-in (Static and/or Dynamic with TRE)
Synchronous FM Compatible
Unparalleled Audio Quality
AES over Composite / Baseband 192 Capable
Next Generation Digital Radio Capable (HD Radio DRM+)
SNMP Level III Control and Security
Perfect for translators with built-in FSK-ID
Excellent AC to RF Efficiency
Broadcast Electronics' Radio Transmitters full range
Exciter Technology: STXe60, STXe500, CPE (Controller Plus Exciter).
At the core of the STX series of exciters is the CPE.
STX LP Series Generation II: The STX LP is built on the 1kW module provides the ability to increase power to 5kW by simply adding additional modules and combiner.
STX Medium Power
2kW – 6kW
STX MP Series Generation III: The STX MP is a brand-new development combining the unparallel audio performance of the entire STX range with the latest high efficiency transistor and RF amplifier design.
STX High Power
10kW – 20kW
STX10 and STX20: Intelligently designed to offer the perfect combination of audio quality, reliability, serviceability, and efficiency in a compact design.
All BE AM and FM transmitters are
HD Radio ready and easily upgradable to broadcast in-band on-channel (IBOC).
Elenos transmitters combine ultra high efficiency, high reliability and low energy consumption in compact rack mountable units.
AM Series
From 500W to 10kW
BE still believes in AM! From 500W to 10kW, BE still provides the most reliable, best sounding AM transmitters.
STXe Digital 60W | 500W
Exciter with legendary quality and performance

Providing unparalleled audio performance, the new STXe exciter will continue BE's dynamically engineered excellence. STXe exciters have a small footprint, are operational in FM, FM + HD Radio, HD Radio only, DRM+, or FM + DRM+ modes, and range in power from 60W to 500W.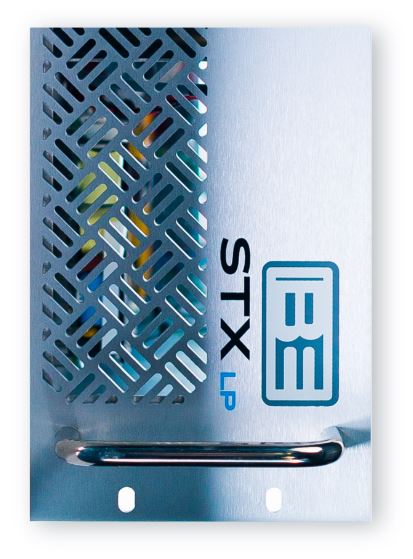 STX LP Series Generation II
1kW | 2kW | 3kW | 5kW
Designed for the world's digital standards and unique applications
• Multiple Power Amplifier Modules & Power Supplies
• Redundant Exciter & Controller Options
• HD RadioTM Capable
• Synchronous FM Systems
• IP Connectivity for complete transmitter status
• Dual Controller and Exciter Option
Performance
Exciter audio performance has been a hallmark of BE for decades.
• The new exciter and controller in the STX LP provides audio performance that rivals BE's legendary FX 30, FX 50, and FXi Exciters
• Improved AC to RF efficiency reduces energy costs
• New enhanced GUI provides access to all important transmitter parameters
• SNMP Level 3 Control and Security
Redundancy
• Multiple power amplifier decks and power supplies for 2kW, 3kW, and 5kW versions allow the transmitter to be on air in emergency situations
• Unique exciter and controller design allows the ability to add an optional second controller/exciter for full control and redundancy in the event of an exciter or controller failure
• Ideal for N+1 Systems
Reliability
• Since 1959, BE has provided equipment to radio broadcasters that is designed to last for the long haul.
Designed and manufactured in the USA, the STX LP line of transmitters has been installed in over 1,400 locations since its introduction.
• 2nd Generation design includes updates to power supplies and fans, insuring an even longer transmitter life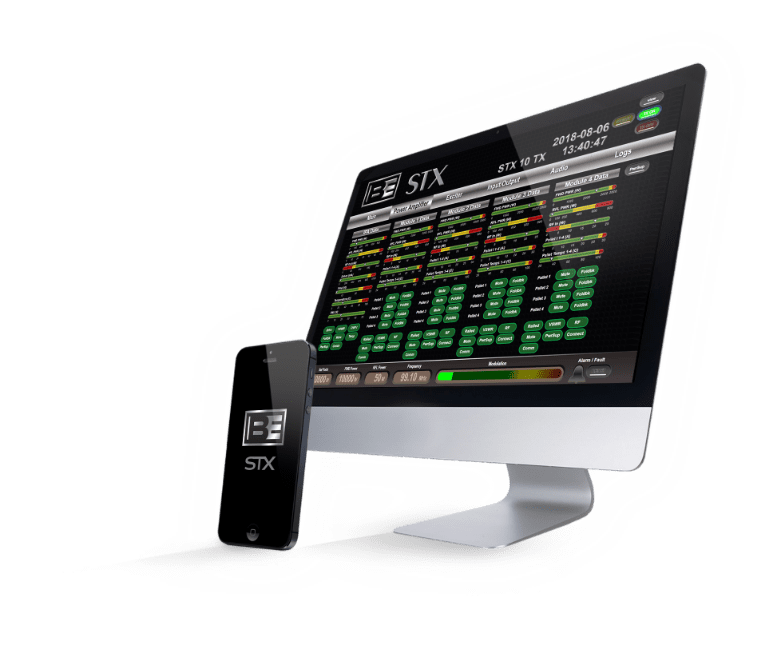 Superior Remote Interface
STX GUI
All BE's Transmitters feature SNMP Level III IP Connectivity:
• From your PC, your tablet, or your phone.
• Three Levels with password access: view only, limited access, and Chief with FULL CONTROL
• Overall Status at a glance or dig deeper to access each Power Amplifier, each Power Supply, and an advanced log for history.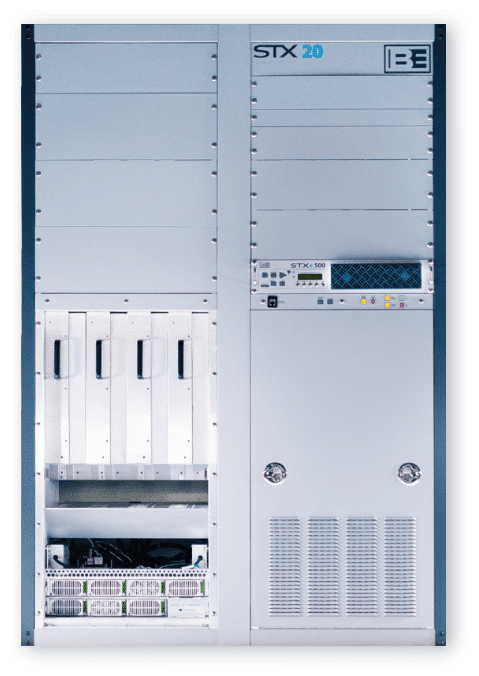 STX10, STX20
High Power
10kW | 20kW
The STX 10, 20 have been intelligently designed to offer the perfect combination of audio quality, reliability, redundancy, serviceability and high energy efficiency in a compact design.
Efficiency
With an efficiency of greater than 70% AC to RF, electricity costs are saved immediately and for years to come
Serviceability & Redundancy
Power amplifier modules and hot-pluggable power supplies are all accessible from the front in the 10kW and 20kW models.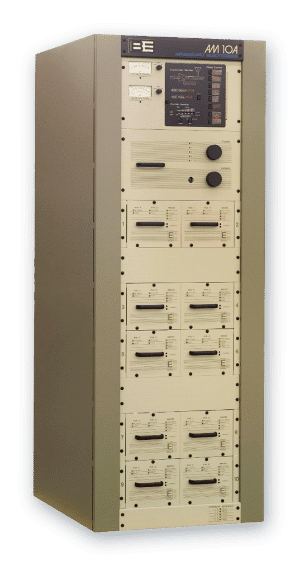 A & E Series
AM Transmitters
A Series 500W | 1kW | 6kW | 10kW
E Series 2.5kW | 5kW
Broadcast Electronics' A Series AM transmitters produce superior audio quality for your listeners while maximizing reliability and redundancy, protecting your revenue stream from unexpected downtime. E Series transmitters incorporate our patented class E power modules, allowing you to achieve unequaled power economy and efficiencies for ultimate reliability and overall cost savings

EQUIPMENT LEASING
Financing options available
Our equipment leasing professionals partners will create custom-designed financing based on your unique situation. Your needs will be met with fast approval and flexible rates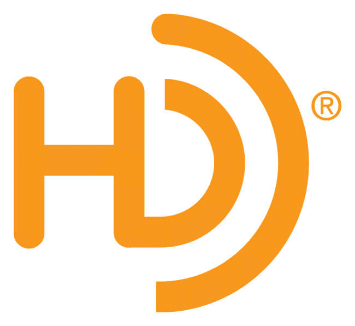 HD RADIO
HD Solutions from Broadcast Electronics
Broadcast Electronics' HD Radio transmitters and generators are the choice for a majority of the converted radio stations in the U.S. and a large number of broadcast facilities overseas. Operating efficiency, easy configurability and on-the-fly operability are just a few of the reasons why
Elenos Radio Transmitters
State of the art technologies
Elenos transmitters combine ultra high efficiency, high reliability and low energy consumption in compact rack mountable units.
Elenos Indium Series
Low-Medium-High Power
From 150W to 60kW, analog and digital FM
These models can come with an amplifier and integrated modulator (exciter) in the same chassis (4U), or with a separate ETG 2U series low power modulator (exciter) and an E 4U series amplifier totaling 6U. These products represent the most advanced technology in terms of electrical efficiency, compactness, reduced weight, ease of use, and diagnostics.
LET'S GO ON AIR
Are you ready for a better, more productive Radio / TV station?
Stop worrying about technology problems. Focus on your business. Let us provide the support you deserve.